Published: Sunday, 01 April 2012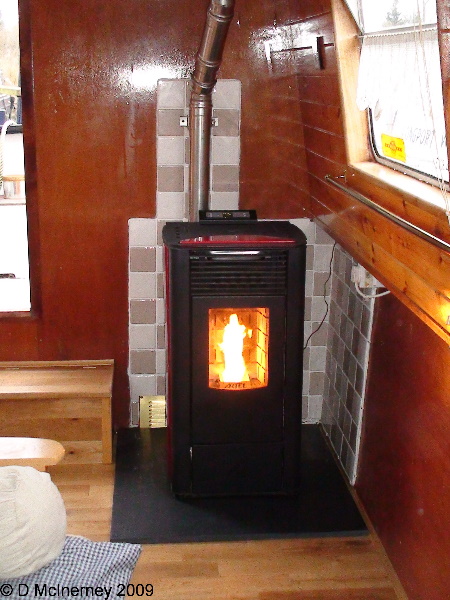 In 2005 I replaced the traditional coal fired "Boatmans Stove" with an automatic Wood Pellet Stove from Artel. This decision was driven by a number of factors including the number of the fatal boat fires over the last few years.
The stove selected was an Artel 6 supplied by Twentieth Century Fires in Stockport who also supplied all of the flue parts and an initial supply of pellets along with lots of helpfull advice. The stove has a hopper which holds a couple of days worth of pellets allowing fully automatic operation controlled by a thermostat and timer. The stove takes about 10 minutes to start from cold and then produces up to 6Kw of heat to quickly warm the main cabin in the boat. Once the correct working temperature is reached the stove goes into an "eco" mode and outputs a minimum heat that is more than adequate to keep the boat warm on even the coldest night.

The stove has worked well over several years both for an occasional cold night and for more prolonged use in the autumn and winter trips.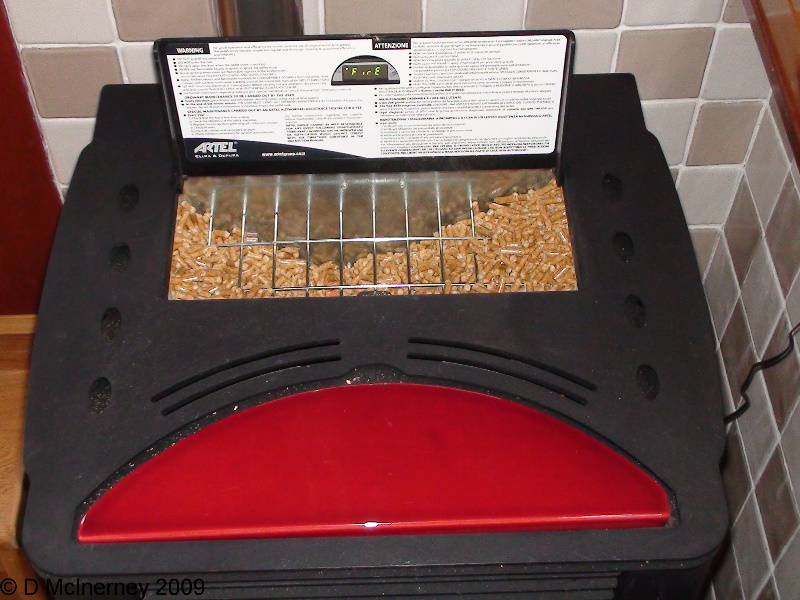 Pellet consumption for a all day operation (8-10hrs) is approximately 5Kg a day with pellets currently costing around 35p per Kg. So a weeks heating costs around £10-12. Although the stove produces bags of heat the outside of the stove is cool enough to touch without fear of burning, this includes the flue which is too hot to hold comfortably but will not burn like the flue from a conventional solid fuel stove. This in turn means that the surrounding tiled area is cool enough to touch and means risk of igniting the wood backing is eliminated.
Wood pellet fuel is normally produced from sawdust so is usually regarded as being carbon Neutral, great for those of us who want to reduce our "carbon footprint".
A minor disadvantage of the stove is the noise of the various fans and fuel feed screw. During the day this is aceptable and certainly when cruising is almost unheard. Even with the engine off it is possible to watch television or hold a converation without problem, but when sleeping the noise can be distracting, although it is comparable to the noise from an Eberspacher boiler. This has now largely been solved by "tweaking" the various fan and timer settings so that in eco mode the stove makes almost no noise except for the occasional whir from the screw feeding pellets to the firebox. This has also reduced the heat output in "eco" mode so that the fire maintains a comfortable temperature once the cabin has heated up, without needing does and windows open, also saving on fuel.
Another disadvantage is that we can no longer dispose of paper cardboard and wood waste in the fire increasing the amount of rubbish we have to dispose of.
Pellets are supplied in 10,15 or 16Kg sausage bags which easy to handle and store (we can fit 15 bags under one quarter of the bed and a further 5 in the log box) Pellets are made from compressed sawdust and need to be kept dry or they turn back into sawdust. Pellets are availiable mail order with delivery in quantities starting from as low as 15 bags upto a full pallet (66 bags) and prices vary depending on the quatity you order them in, see the link above or http://www.woodpelletsupplies.com/ for examples.
Having used the stove for several years sometimes with outside temperatures dropping well below freezing I can say I am delighted with it and would have no hesitation in recomending the stove to anyone else who is looking for solution for heating a boat.
I can also reccomend Twentieth Century fires for after care service, they came out to the boat when I was in the Manchester area and carried out a service, also supplied a replacement side panel I had managed to break when the boat rocked and something fell against the ceramic panel and a free "spare" . At the same visit they brought bags of pellets and did not charge for delivery as they were coming out to me anyway. A service I will certainly use again when I am in the Manchester area.
Hits: 15276