Published: Wednesday, 01 July 2020
As the lock down restrictions ease we finally have a cruising plan for this year
Cropredy to Oxford, Lechlade, Teddington, Oxford and back to Cropredy
9th August to 13th September 2020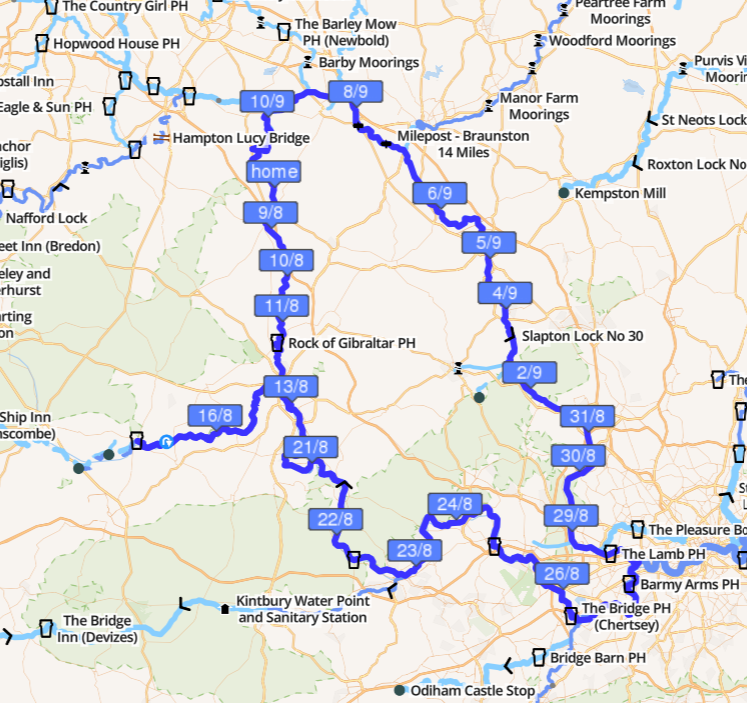 Week-1
Sun 9- Sat 15th August
From Cropedy Marina south on the Oxford canal through Banbury, to Oxford. Overnight stops planned for Banbury (sun), Nell Bridge (mon), Upper Hayford (tue), Kitlington Quarry (wed) Thrup (Thur), Oxford (Fri)
Week-2
Sun 16th - Sat 22nd August
From Oxford onto the River Thames upstream to Lechlade and then returning to Oxford. Overnight stops planned for Kelmscott (tue), Tadpole Bridge (Thur), Godstow (Fri)
Week 3
Sun 23 - Sat 29th August
From Oxford downstream on the Thames to joint the Grand Union at Brentford. Overnight stops Shillingford Bridge (mon), Reading (tue), Hampton Court (Fri) Bulls Bridge (GU) Sat.
Week 4
Sun 30th August to Sun 5th September
North on Grand Union from Bulls Bridge to Leighton Buzzard. Overnight stops planned for Harefield (mon), Abbots Langley (tue), Hemel Hempstead (wed), Berkhampstead (thur), Marsworth (fri) Leighton Buzzard (sat).
Week 5
Sun 6th to Sat 12th September
North on Grand Union to join the Oxford Canal at Braunston, then to Napton and over the summit of the Oxford Canal through Fenny Compton to Cropredy. Overnight stops planned for Milton Keynes (Sun), Stoke Bruerne (Mon), Bugbrooke (Tue), Norton Junction (Wed), Napton (below locks) (Thur), Fenny Compton (Fri), Cropredy (Sat)
All locations are approximate.
Details on the crew page, please log in to view.
Hits: 3665