Published: Friday, 03 March 2023
2023 Cruising Plans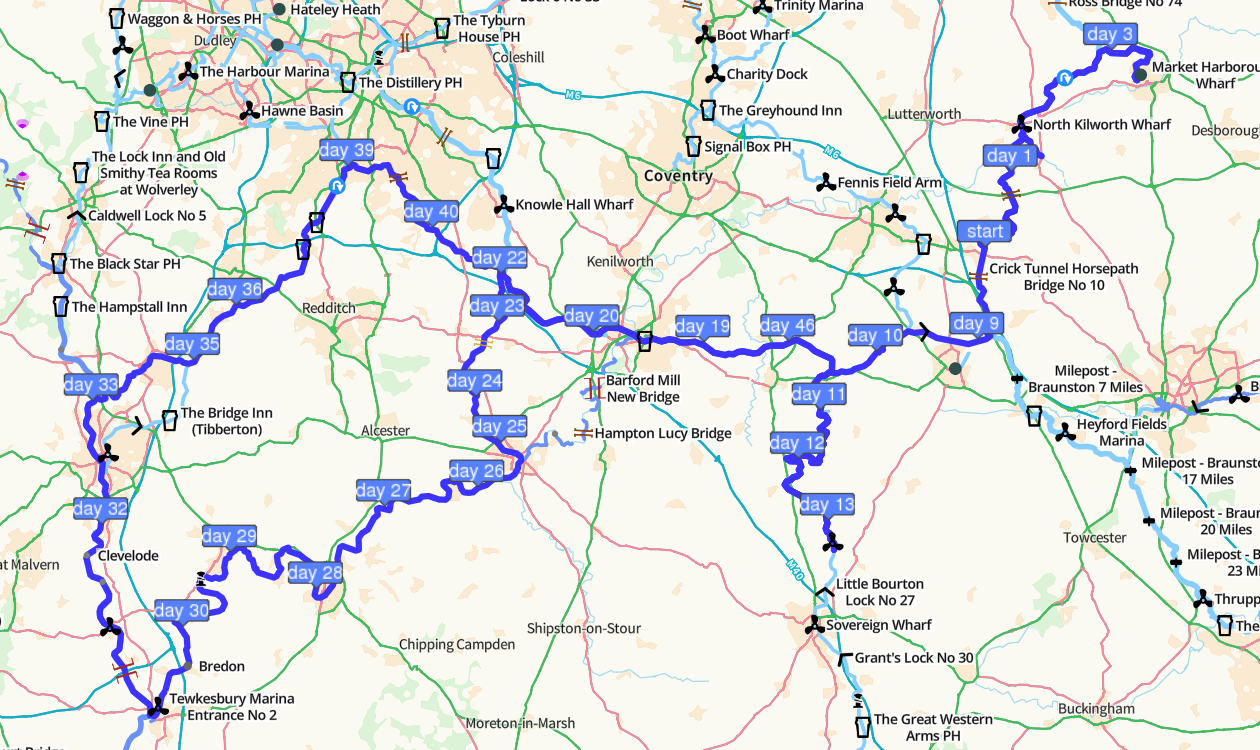 Part 1 - Cropredy to Crick, Crick to Market Harborough, Market Harborough to Cropredy
Sun 21st May - Fri 25th May : Cropredy to Crick
From Cropredy north on the Oxford Canal to Napton then on to Braunston and Norton Junction to head north along the Leicester line to Watford and Crick

Fri 26th - Mon 29th May : Crick Boat Show
Crick Boat show the 2023 Crick boat show, We will be moored up in zone 1 which is closest to the bridge and will have tickets for the show if anyone is interested.
Tue 30th May - Sat 11th June : Crick to Market Harborough to Cropredy
From Crick north on the Leicester Line to Foxton. If crew availiable down foxfon fligh and along the Market Harborough branch to the basin. Return to Foxton and back onto the sumit, a detour to Welford then south through Crick to Watford and decend onto the GU. West through Braunston to Napton then over the summit of the Oxford Canal back to Cropredy.

Part 2 - Cropredy to Droitwich via Tewkesbury
Sat 16th July -Sat 5th August
From Cropedy to Napton over the Summit of the Oxford Canal, then North on the GU through Warwick and Hatton to Lapworth where we join the Stratford Canal. South on the Stratford to Stratford on Avon to join the River Avon. Downstream on the Avon through Evesham to Tewkesbury. At Tewksebury onto the River Severn and north to Worcester to join the Worcester and Birmingham to Droitwich.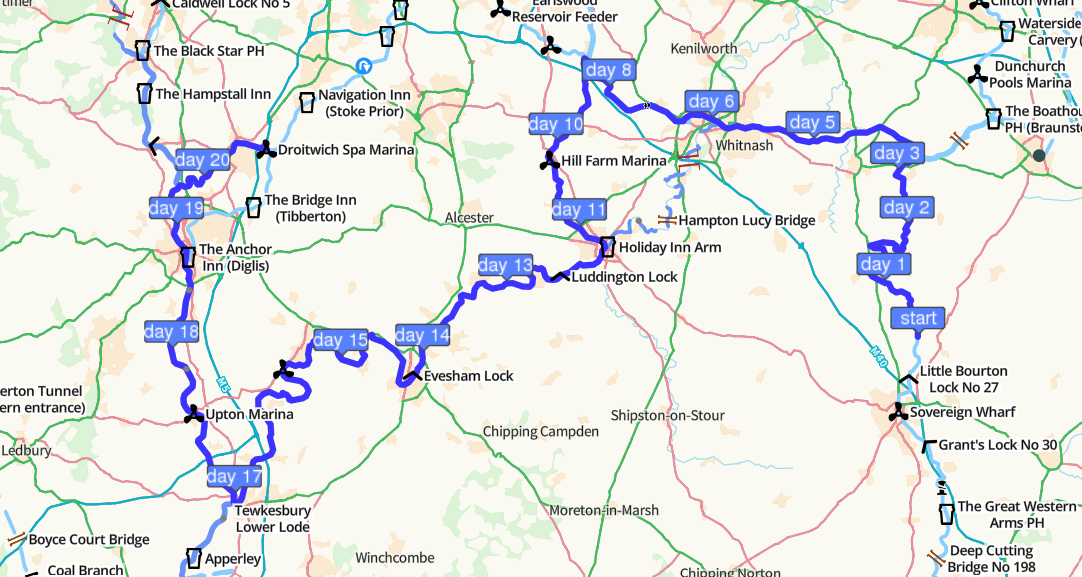 Part 3 Droitwich to Cropredy
Sat 26th Aug to Sat 9th Sept
From Droitwich continue North on the Worcester and Birmingham to Tardebigge and then to the junction with the Stratford Canal at Kings Norton. South on the Starford Canal to Kingswood in the middle of the Lapworth flight then join the GU. East on the GU down Hatton through Warwick to Napton to rejoin the Oxford Canal at Napton. Over the summit of the Oxford Canal to Cropredy.

Hits: 686